Hey, Sis! If you don't already know, I'm Victoria Prince, but my girls in the #Toriban Tribe call me Tori, which means you can too! The #Toriban Tribe is a tight knit tribe of women that pour into one another while grabbing all of the gems I drop about the beauty and skincare industry. I'm an Illinois Licensed Esthetician with NCEA Certification, which is the equivalent to a Master Esthetician, Licensed Educator, International Celebrity Makeup Artist, Published Author, Contributing Writer, Creative Director, Coach and Mentor – a mouth full, I know. I like to sum it up with one title: Beauty Scientist. Very humbly speaking, I've worked hard to earn my stripes and have become one of the beauty industries most sought after estheticians and educators.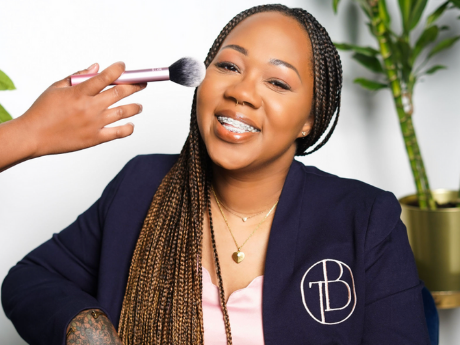 My Journey
wasn't a straight shot to the top, but it started out as an infatuation with my own skin and the desire to clear up my pubescent acne. My plan was simple: develop my own, homemade skin care product so that I could obtain the clear skin I desired. My goal of clear skin quickly manifested into me becoming enamored with the beauty industry after following in my mother's footsteps as a hair and fashion model as well as having the opportunity to display my training as a dancer on and off the runway. As much as I enjoyed modeling and performing, I found the most joy behind the scenes watching the Creative Directors work their magic by transforming chaos into the perfect vision.
Although I found great interest in the beauty industry, I still went on to obtain a Bachelor of Science in Psychology from Northwestern University, a Masters in Public Affairs from the University of Missouri-Columbia and then a corporate career in Human Resources. Throughout my life, I had experienced many instances of low self-esteem. During my college years, I found that my escape from that was in makeup. The fulfillment connected to giving myself and other women makeovers that allowed us to feel like the most beautiful version of ourselves was unmatched but it wasn't until after grad school that I began to pursue the beauty industry more aggressively.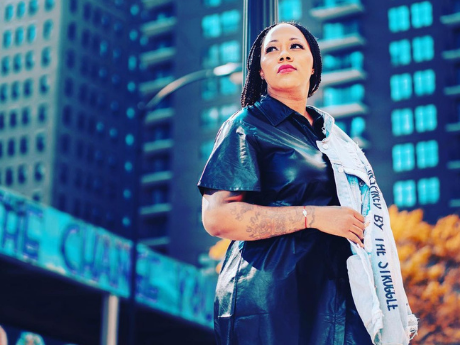 Southside Chicago
Now, listen, I'm from Southside Chicago and if you know anything about us, you know that we are born and bred hustlers. With that being said, alongside my corporate career, I still found time to balance my most notable accolades as devoted wife and mother while fulfilling my passion to inspire women to prioritize self-care. I was providing makeovers to women of various ethnicities and skin types that enhanced their natural beauty and instilled new confidence from within.
Although Corporate America felt secure, the beauty industry was where I felt the most fulfilled and aligned with my purpose. I continued to work full-time while doing glam on the side. As time progressed and my clientele list began to grow, I noticed that no matter the ethnicity or skin type, I was spending a majority of my sessions ensuring that my clients had a flawless canvas because just about every woman had one thing in common: they needed help with their skin and I was determined to help them.
Initially, I considered becoming a dermatologist so that I could get down to the root of skin issues and help each of my clients solve them. I quickly decided against that route because I didn't feel as though there was enough room for creativity within the field of dermatology and I wanted to provide more than just medication that may or may not have cleared someone's skin. I wanted to provide self-confidence, boost self esteem and share resources with women of color so that we not only had better representation in the beauty industry but also a better understanding of skincare as a whole.
After dedicating so much of my time and energy to corporate and placing my dreams on the back burner, I was fired. Life was ripped from under me after having my second child. At that point, I vowed to never go back to corporate, never put my dreams on hold again and decided to obtain my esthetician license.
During that time, I launched T-N-T Artistry, Inc., and from there, my first retail collection, Exquis Face Candy was born. Funny enough, once I completed my schooling, I was offered a corporate position and decided that it was best for my family if I accepted the position. I did however continue to grow my business by graduating from my home workspace in my kitchen to obtaining a spa location where I was able to see my clients. Of course, Corporate frowned upon that. In addition to my duties as a wife and mother, I also picked up a part-time job and had hopes of being promoted within my full-time job, so I decided to dissolve T-N-T Artistry Inc. to focus on obtaining my promotion.
As life would have it, I didn't get that promotion and I was left feeling let down and defeated; not to mention, I also had to pick up yet another corporate position so that I could maintain a stable income while I created my exit strategy. That wasn't the path I wanted to take but, it was a blessing in disguise because it was the boost that I needed in order to step out on faith and put my all into the beauty and skincare industry.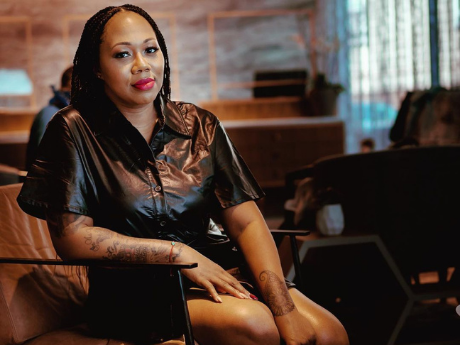 EXIT STRATEGY
While I continued to work my full-time job, I began to invest in coaching and professional development to expand my knowledge and receive proper guidance in building a sustainable brand. The exit strategy I had put together for myself was called into action well before I intended for it to be when someone that I trusted as a mentor, betrayed me. That's when I came to my final decision that the slave train had to end for good and just as the pandemic began, I became a Corporate Dropout.
After 20 long years in the corporate world and unmatched support and motivation from my husband, I could no longer ignore my calling and I knew it was time to bet on myself, fold up my slacks and dive into the self-care industry. From there, Tori Prince Beauty, LLC was born and quickly became a powerhouse luxurious self-care brand that inspires, enriches and empowers women of color to heal their natural canvas by utilizing the Toriban Method: Correct - Maintain - Transform, my signature 3-step framework to a flawless canvas. In an effort to elevate my brand and maximize my potential as an educator and a business owner, I attended Cornell University to receive a Certificate of Women's Entrepreneurship. The foundation of my brand has been built on my belief that no melanin is created equal and because of that, I pride myself on providing products, services and mentorship that creates a unique, individual experience for each of you.
Tori Prince Beauty® now has 3 retail collections
I wholeheartedly believe in a client-centric approach to beauty, self-care and wellness and I believe that it is to be accomplished by self-love. Because of my own trials and tribulations, I strive to be a proponent for women of color to prioritize self-care into our everyday lifestyles.
As women of color, I know that we feel pressured to accomplish everything, for everyone and I know that sometimes it means putting our own self-care on the back burner. I also know first hand how the effect of low-confidence, low self-esteem, trauma, and health issues can have a major impact on the skin and because of that, I wanted to make sure that Tori Prince Beauty provided intimate skincare, corrective skincare, flawless makeup and wellness from the inside out, for all of our skin types, all of our melanin and all of our lifestyles so that even on-the-go, we're able to include luxurious self-care into our daily routines. At the end of the day, my passion in life is to encourage, empower and enrich as many women as I possibly can. Between my exclusive products, confidence boosting services and carefully composed courses and coaching programs, Tori Prince Beauty is equipped to spread beauty and confidence across the world.